Expert Printer Repair Technicians in Bankstown
Book your Bankstown printer repair technician in 5 minutes today!
Global Office Machines is the only printer repair service in Sydney that promises to bring services to your door. Indeed, when you book a technician, we will travel on-site so you will have the convenience of having your printer repaired in the comforts of your own homes. All of their services are also backed with a three-month warranty to give more value to your money.There is no better printer repairs Bankstown offers!
Bankstown in New South Wales is a suburb known for having one of the most ethnically diverse communities in Australia. It is a great place for enjoying international cuisines and for reaching to a wider business audience.
GOM has a mobile workshop location in Bankstown. So what are you waiting for? Give us a call at 02 9874 4411 or 1300 882 852 so a repair technician will be dispatched to your location as soon as possible.
Handle Bankstown urgent printer repairs
Printer repair technicians for onsite services
We offer no lock in contract and no hourly rate
Buy an office printer in Bankstown
Online Booking
Access to our booking system
Reliable Customer Service
4-6 Hours Response Time
98% First Visit Success Rate
Successfully Completed Repairs
Global Office Machines (GOM) have been happily helping local clients for over 2 decades. We offer a diverse assortment of printers for sale, including laserjet printer repairs, multifunction printers, photocopiers and large format devices. Our clients in Bankstown include government, local schools, small businesses and private customers. Take a look at our excellent selection of office printers and exceptional bargains.
We specialise in printers for schools, government, corporate, small businesses and individuals. Our company offers a diverse choice of printer for sale including laserjet printer repairs, multifunction printers, photocopiers and large format devices. Look through our selection of office printers and special deals. If you have questions, ring us at 1300 882 852 and one of our experts will assist you.
We are the best provider of printers for sale in Bankstown, serving government offices, schools, local businesses and private clients. Our consultants have specialised knowledge and skills for many different brands and models. They will go on site to deliver your machine and set it up as quickly as possible. We sell the finest range of printers, photocopiers, plotters and multifunction machines from the top names on the market. No matter what printer brand you invest in, our techs will take the time to make sure that your team have learned to run the machine for optimum performance.
Book your technician for Bankstown today!
↓
OUR TECHNICIAN'S PICK
Check our technician picks from among the largest range of printers for sale in Australia. These selected machines are ideal for keeping your business running efficiently.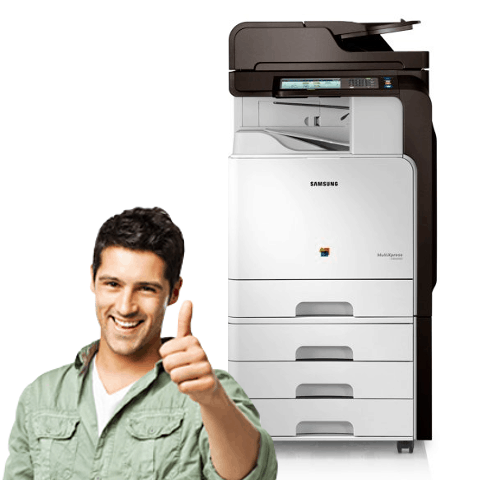 EXCLUSIVE PRINTER DEALS
Enjoy unprecedented value from our exclusive printer deals – low prices and unparalleled service unmatched in the industry. Click to view the deals and learn why we are Australia's top supplier of quality office machines.