Servicing Samsung Printers Since 1996
Samsung Laser Printer Repairs Sydney
When your Samsung laser printer breaks down and delays your work, the first problem that the office manager faces is the fact that they don't know who is going to offer the fastest and most affordable repair. For fast printer repairs in Sydney, call Global Office Machines now on 1300 882 852 or fill in the booking form below to experience first-hand the Samsung laser printer repairs that we do. The majority of the laser printer repairs we do are on office printers but we can handle any printer repair, service or maintenance job to all printers on the market. As well as providing a same day service where possible, we also work on a flat call out fee basis so you only have to pay for the cost of the repair, not for hourly service.
As printer technology improves every day, we equip ourselves with the knowledge required to provide solutions to your Samsung laser printer issues. In our vast experience of repairing Samsung laser printers in Sydney, we have become adept at assessing and solving the various issues common to the brand's machines. For example, one of the one of the most common problems with newer models is when wireless printers don't print. The most common culprit for this is a malfunctioning wireless adapter which needs expert attention to solve the problem. Our technicians receive training on new models of laser printer so every time the technology gets better, our knowledge of it gets better as well. So if your broken printer is a brand new Samsung Xpress C480FW laser printer or an older model that has been in your team for years we will be able to repair it.
Why choose us?
We have been around since 1996. Our 20 year experience with Samsung laser printer repairs and other brands speaks for itself. We boast a 98% first visit success rate. And if that is not enough for you, we provide a thirty day warranty to all repairs done by our technicians.
OUR TECHNICIAN'S PICK
Check our technician picks from among the largest range of printers for sale in Australia. These selected machines are ideal for keeping your business running efficiently.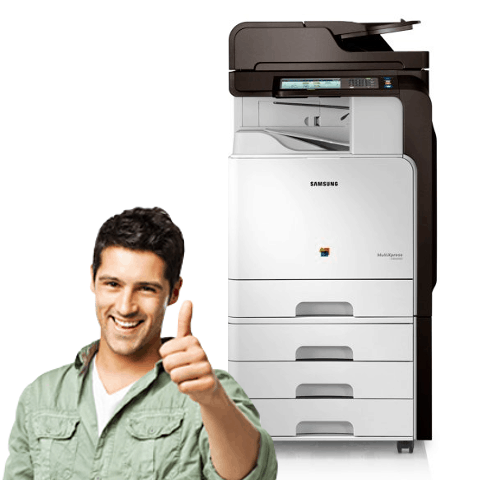 EXCLUSIVE PRINTER DEALS
Enjoy unprecedented value from our exclusive printer deals – low prices and unparalleled service unmatched in the industry. Click to view the deals and learn why we are Australia's top supplier of quality office machines.