HP Designjet T950 Series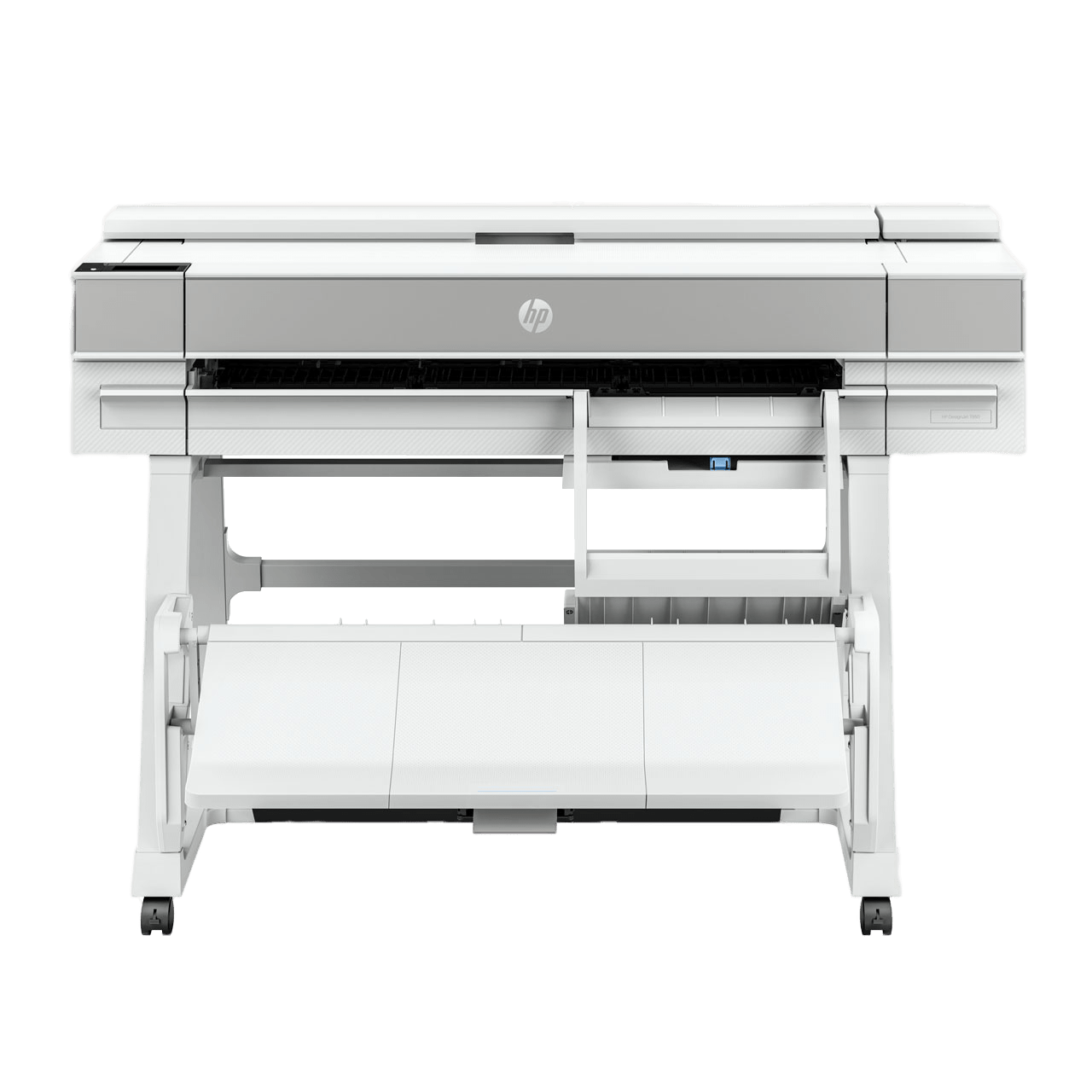 Auto switch A1-A3 media size
Most Efficient Printer
Seamless, Secure, Sustainable
Introducing
Up to 40 pages input tray
Front-loading Scanner
HP Designjet T950 Series
The world's easiest A3 & LF printing experience to maximize your teams' agility
HP DesignJet T950 36″ Printer
The HP DesignJet T950 large format printer is one of the most efficient large format printers on the market. It features an A3-A1 automated switch media size that allows you to print on a variety of media sizes without having to manually change the media. This makes it ideal for businesses and organizations that need to print a variety of large format documents, such as architectural drawings, engineering plans, maps, and posters. It also comes with separated tray up to 40 pages. HP DesignJet T950 offers 36-inch printer with printer only or multifunction printer choices.
All models. Choose what suit your needs.
Automated Media Size Switching
Say goodbye to the hassle of manually changing media sizes. The HP DesignJet T950 36″ Printer features automated media size switching, allowing you to effortlessly transition between A3 and A1 paper sizes.
---
Fast print speeds of up to 120 A1/h
The T950 can print at speeds of up to 120 A1/h, so you can get your work done quickly.
---
Consistency is key when it comes to professional printing. The DesignJet T950 excels in delivering consistent high-quality output across various media sizes.
The T950 comes with front-loading integrated scanner, and easy front panel integration with new UI and one-click start
---
Connectivity and Compatibility
The HP DesignJet T950 offers a range of connectivity options to suit your workflow. It supports wireless printing, so you can easily print directly from your mobile device or laptop.
---
Separated Tray for Streamlined Workflow
Efficiency is at the core of the DesignJet T950's design. With a separated tray, you can load different media sizes simultaneously, further streamlining your workflow.
Why choosing HP DesignJet T950 36-inch Printer
Don't worry about printing in different media size again. Switch printing from A1 to A3 is simple and automated. Consistent printing quality in A1 or A3 size.
Do your printing and scanning job easily with HP Click. Everything done with one click.
Whether you're a business professional, architect, or designer, you can trust the HP DesignJet T950 36″ Printer to deliver high-quality prints while ensuring that your data remains safe and secure with HP Wolf Security.
HP is committed to reducing its environmental impact throughout the printer's lifecycle. HP DesignJet T950 made with at least 35% recycled plastics.
The printer that will change the way you print
Save time and avoid mistakes with
The HP DesignJet T950 36″ Printer, when paired with the simplicity and power of HP Click, makes printing a breeze. No longer do you need to navigate complex print settings or struggle with manual adjustments. With just one click, you can produce high-quality prints, scanning, save time, and streamline your printing workflow.
HP's most advanced security
The HP DesignJet T950 36″ Printer, enhanced with HP Wolf Security, stands as a fortress against the ever-evolving landscape of cyber threats. It's not just a printer; it's a secure printing solution designed to protect your sensitive information and maintain the integrity of your business operations.
Uncompromising Security with HP Wolf Security
Advanced Threat Protection
Secure Boot
Data Encryption
Secure Printing
Automatic Firmware Updates

Audit and Compliance Reporting:
The HP DesignJet T950 36″ Printer is a testament to HP's commitment to sustainability. From its eco-friendly design to its carbon footprint reduction initiatives, this printer embodies the principles of responsible environmental stewardship. By choosing the HP DesignJet T950, you're not only investing in a high-quality wide-format printer, but you're also contributing to a more sustainable future for printing technology.
HP is committed to sustainability, and the HP Designjet T950 36″ printer is designed with sustainability in mind. Here are some of the ways that the HP Designjet T950 36″ printer is sustainable:
The printer is made with recycled materials, including up to 35% recycled plastic in the stand.
The printer uses less energy than previous models, and it is ENERGY STAR® certified.
The printer comes with a free recycling program for ink cartridges and printheads.
HP offers a range of sustainable media options for the HP Designjet T950 36″ printer, including FSC®-certified papers and recyclable plastics.
Ready to Speak With Us?
Global Office Machines is proud to be a platinum partner with HP. We are a problem-solver based business and we offer unique solutions to suit your needs.
Starting as a service-based business, our company keeps evolving to follow market demand and now we have expanded our business model and offer a range of services including managed print services, leasing and rental of office equipment, and outright purchase.
If you're looking to get your managed HP DesignJet T950 36″ printer just fill in the form to get a call back from our solution directors to discuss your requirements.
You can also reach us anytime on 1300 882 852 or contact us at [email protected].
Your one-stop shop for large format printing. Get yours today from Global Office Machines!