Specialising in Xerox Laser Printer Repairs in Sydney
Xerox Laser Printer Repairs
A printer breakdown is a common problem in the office. Call Global Office Machines Now at 1300 882 852 or fill in the booking form below to get your Xerox laser printer repairs done by the experts in Sydney. With experience repairing printers in the local area since 1996, we have Xerox specialists on hand to attend to your repair. Xerox printer issues range from simple paper jams and poor image quality to more complex problems like a part replacement or a broken nozzle. Whether your laser printer in need of repairs is a Xerox Phaser that only came out last year or an older machine, we have the breadth of experience needed to quickly asses and suggest solutions to your printer problems.
We are proud of our efficiency in repairing printers – especially our 98% first day success rate on our repairs. We offer a 30 day warranty on all Xerox laser printer repairs done by our technicians, so are on hand for any follow up issues should they arise. We also have a 3 month warranty for any parts that we use to repair your faulty laser printer. Because we know how important working printers are to businesses across Sydney, if the situation calls for it we can also provide a loan machine for free.
When your Xerox printer breaks down and you register the problem with us in the morning, we will endeavor to get a technician on site within 4 hours to minimize the disruption to your working day. We charge a flat rate charge per repair job and not by the hour to keep the cost of your Xerox laser printer repair in check and within budget. Get in touch with our friendly staff who are very much ready to provide you with a cost effective, timely and efficient repair service.
OUR TECHNICIAN'S PICK
Check our technician picks from among the largest range of printers for sale in Australia. These selected machines are ideal for keeping your business running efficiently.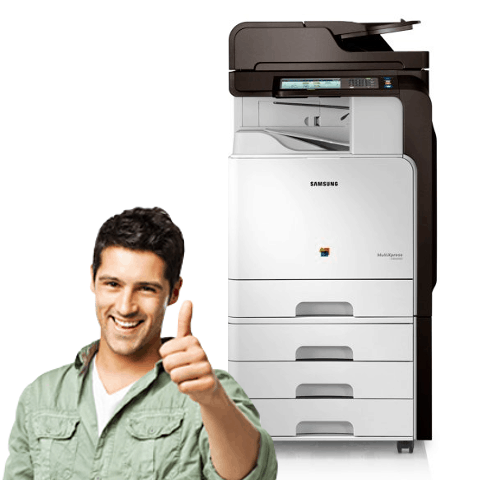 EXCLUSIVE PRINTER DEALS
Enjoy unprecedented value from our exclusive printer deals – low prices and unparalleled service unmatched in the industry. Click to view the deals and learn why we are Australia's top supplier of quality office machines.