For all of your large-scale projects, Global Office Machines stock an extensive range of high-quality wide format paper for use in wide format printers and plotter print jobs. Our paper is expertly manufactured with the latest technologies to provide businesses with a durable surface that creates exceptional colour clarity and high precision graphics. Scale images to perfection maintaining definition and clarity alongside capturing the full-colour spectrum intended for your print project.
Shop our rolls of plain bond paper online in single or value bundles and have them delivered quickly to your business Australia-wide.
Uses of Wide Format Paper Sydney and Australia
Wide format paper comes in different types and finishes and is designed to be used in large format paper printing for projects that require the highest quality production of graphics and line definition. Wide format paper is customarily used for technical drawings and blueprints, alongside advertising and promotional projects, such as billboards and signage, large posters, banners and more.
This paper is available in many sizes, including A1, A3, A0, B1, B2 and B0. The size and density of wide format paper allow it to handle higher ink densities producing captivating imagery with vibrant colour and sharp lines. Being large in size, wide format paper enables designers to capture tiny, complex details with 100% accuracy.
Plotter paper is designed to be used in plotter machines in conjunction with computers to create vector graphics for a broad range of design projects. This type of paper is most commonly used by architects and builders to generate blueprints alongside other technical software programs.
Bond paper is an excellent type of paper for both wide format printing and plotter printing. The durability and versatility it provides mean it is suitable for inkjet and laser printers, as well as inkjet and traditional pen plotter machines. Our bond paper is made to hold ink in place to prevent colour bleeding in images. When paired with our HP Designjet T range, Canon colour printers and Epson SureColor series for dye and pigment inks, your works will be produced as vividly with unparalleled precision and detail.
To find the right wide format paper for your needs, reach out to our friendly experts at Global Office Machines and we'll help you find the perfect match.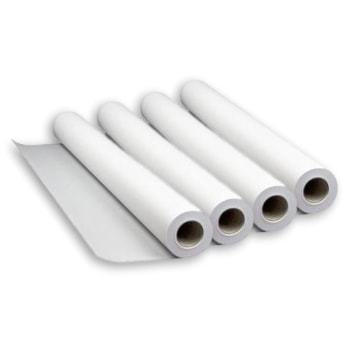 What Type of Wide Format Paper Do We Sell?
Global Office Machines sell an extensive range of single and bundle plain bond paper rolls, coated paper, gloss and semi gloss plus matte paper by HP, Canon and GOM that are manufactured to the highest standard. Our HP bond paper comes with ColorPRO technology for remarkable brightness and a matte finish.
We sell wide format paper in the following measurements:
Paper Size –

A0

/ A1/ A2/ A3/ B0/ B1

Paper Length – 100m/ 150m/ 175m/ 50m/ 45m/ 91.4mm

Paper width – 1067mm/ 297mm/ 420mm/ 594mm/ 610mm/ 707mm/ 841mm/ 914mm
Leading Suppliers of Wide Format Paper in Sydney and Australia
Find the right wide format paper for all of your design needs at Global Office Machines. Shop the range online now or give us a call if you need assistance and our friendly experts will be happy to help you out.