Leading Printer Experts in Australia
Global Office Machines (GOM) offers professional businesses, office and home printer services, and repair in Austral. This globally renowned company has specialized in HP models of printers, photocopiers, plotter machines and fax machine service and repairs. There is simply no malfunction strange enough to GOM and you can rest assured that all your problems are solved by experts.
We have a team of repair technicians that can work on all brands and models. For efficient and speedy onsite repairs, we carry spare parts wherever we go. In the event that we need to repair off-site, we will provide you with a temporary replacement so business operations can resume right away. Feel free to get in touch with our representatives today to know more about our services.
Onsite service for your printer in Austral
4-month warranty on all services offered; 3-month spare parts warranty
Complimentary printer provided in the event that repairs take more than a day to complete
Buy an office printer in Austral
Located 42 kilometres away from the Sydney Central Business District is the suburb of Austral. It offers multiple facilities to its residents, such as local schools and sports centres. Along with its shopping centre and commercial district are businesses and franchises for sale. This promises a growth in commercial activities that will drive the demand for high-quality infrastructure, office supplies, and business services.
When it comes to printers for businesses in Austral, Global Office Machines (GOM) has acquired a reputation for being experts in our field. Office machines are a big investment, and our customers know that if anything goes wrong, our technicians will come to your location to make sure everything runs as smoothly as needed. Take a look at our range of office printers and exclusive deals, or get in touch with us at 1300 882 852. Here at GOM, customer satisfaction is our highest priority.
Online Booking
Access to our booking system
Reliable Customer Service
4-6 Hours Response Time
98% First Visit Success Rate
Successfully Completed Repairs
Book your technician in Austral today!
↓
OUR TECHNICIAN'S PICK
Check our technician picks from among the largest range of printers for sale in Australia. These selected machines are ideal for keeping your business running efficiently.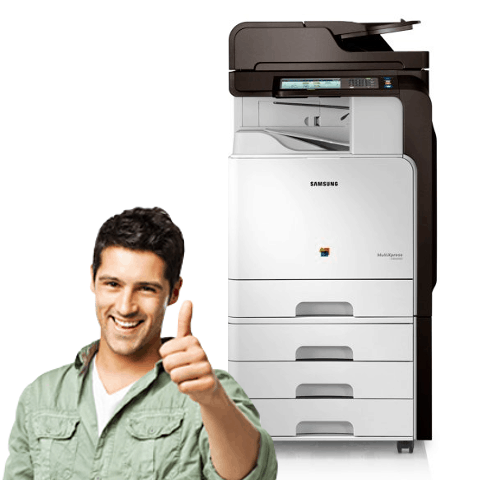 EXCLUSIVE PRINTER DEALS
Enjoy unprecedented value from our exclusive printer deals – low prices and unparalleled service unmatched in the industry. Click to view the deals and learn why we are Australia's top supplier of quality office machines.